First Visit Expectations
What happens at my first new patient examination visit at Dr Becker's Office?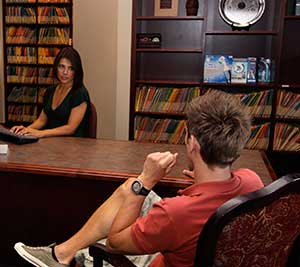 We are very thorough. Our initial examination takes from 1 to 1 ½ hours depending on what your needs are. The first thing we do is sit down with you in our consultation room and ask you about your dental concerns. We want to know about any problems you have. You can tell us about your health history and dental health goals. We then take a set of digital x-rays of all the roots and chewing surfaces of your teeth.
We perform an oral cancer exam, bite evaluation, TMJ exam, decay exam, evaluation of your existing dental work, check for gum disease and take photographs of your existing fillings, teeth and smile.
Most importantly, we show you our findings and begin to explain the general state of your dental health.
After you leave, all of the data we have collected about your dental condition is reviewed by Dr. Becker and a treatment plan is created to sequentially address any concerns. We will go over these findings in detail at your next appointment and give you a written copy of recommended treatment for your records. Options will be discussed. Being fully informed will help you make your best decisions.
We want every client who visits our dental office in Shoreline, Washington, to feel like a valued member of our team. We strive to maintain our relationships for a lifetime by openly and honestly informing you about your dental health and your options to restore, improve, and properly maintain it.
You are important to us and we are here to serve your needs and lifestyle.
For more information please call us at 206.542.4848 or Email us!